OPENHAUS 28/11/2013
Open studios, Exhibitions and Screenings
Artists and researchers in residence open their studios and present the projects they have developed during their time at ZK/U.
With Johannes Abendroth, Jamie Allen, David Clark, Barbara Cole, Beth Dynowski, Camila Mello, Mauro Espindola, Ali Khodr, David MacWilliam, Noel Qualter, Kristin Tårnes, Chaoming Teng, Vemund Thoe, Nancy Woods.
Mixed media performance presented by Noel Qualter at 7.00pm and 9.30pm
Johannes Abendroth
Johannes Abendroth - Mountain Drift
During the ABH Residency on the island of Dønna in Norway Johannes Abendroth has been working with unusual nutritional potential of his surroundings. From supposedly poisonous berries or harvested potato fields, he has created food or spatial interventions.
Right: Mountain Drift, Nordvika/Dønna, 2013, Supported by ArtBase Helgeland 66°N – Dønna
Walking along a mountain range at Nordvika on the island of Dønna, I have surprisingly found tons of berries. Without accurate knowledge I have just collected as many as possible. To find out which fruits are actually edible or poisonous, I sorted and identified the berries afterwards.
More infos: http://www.johannes-abendroth.de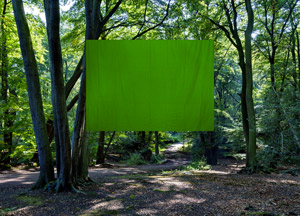 Jamie Allen
Jamie Allen - Greenscreen (excerpt)
30 second video loop for two colour CRT monitors
2013
A muslin greenscreen chroma-key backdrop is placed in the woods. A 30-second video loop of this event is played back on two CRT colour reference video monitors.
David Clark
David Clark
David Clark will present a section from his new video installation work called 'The Ends' that involves a meditation on death and the end of stories. The work uses the idea of the mash-up to weave together stories and references using clips and images from movies and the internet. The work also experiments with the sculptural expressions of cinema.
Barbara Cole
Barbara Cole
Barbara Cole is a Vancouver-based artist, curator, educator, and curatorial consultant in public art. During her residency at ZK/U she moved between research, writing, and making. With an interest in the expanded role of artists in the re-imaging of urban spaces, she wrote about some of her recent curatorial projects presented through the arts organization Other Sights for Artists' Projects. Her studio focus was on 'troubling' miniature structural systems and reproducing them as iconic artifacts.
Jan Körbes
Jan Körbes - Silo City
Experimental living concept in the context of mobile and dynamic architecture
Scheveningen, The Hague, Netherlands, realization March 2013
First Mobile Location Berlin-Moabit, Germany, July 2013
"As a contraposition to the standard perception of architecture and as a reaction to a dynamic life as garbage architect and international 3D troubleshooter, I developed a dynamic and mobile living structure from a grain silo and a selection of local waste materials. Various simple but logical technical systems enable the silo to be almost independent of civilization, e.g. the shower which works on 5 liter circulated water. In order to look from a different angle at the standard way of living, I started to live with my daughter in the experimental house, which we moved to Berlin at the end of july 2013. The 'silo city' project in Berlin questions the general dynamics in housing and public space, inviting contrasting groups of society to experience the other side of mobility and architecture, from doctors to lawyers, through workers and gardeners to politicians and musicians."
David MacWilliam
David MacWilliam
David MacWilliam is an artist and educator from Vancouver where he teaches in the Audain School of Visual Arts at Emily Carr University. During his time at ZK/U he has been investigating the role of painting as a material practice and reflecting on "painting degree zero." He will be presenting the results of his research in the November exhibition.
Camila Mello, Mauro Espindola and Ali Khodr
Camila Mello, Mauro Espíndola and Ali Khodr
As an initiative of BASE-Film, in collaboration with the artist-researcher Fabrizio Poltronieri, process BLANK_akt#3 is an open studio for those who are interested in participating into a time-lapse filming and sound capturing experiment connected to the place of oblivion.
More images are available at https://www.facebook.com/BASEprojects
Noel Qualter
Noel Qualter
Noel Qualter will be presenting a mixed media performance, based on an abstract from his script of The Last Day of Rain enacted by two Berlin based actors, with sound and music by Michael Fakesch, camera by Rodrigo Diaz Diaz. (Supported by ZK/U and Artconnect Berlin).
Performers: Vanessa Most and Fabian Gerhard
Noel Qualter is the writer and director of The Last Day of Rain, official selection at IFP No Borders International Co-Production Forum, 2012. At ZK/U Berlin Noel explores the context of Berlin and shooting the film here in 2014.
Kristin TÃ¥rnes
Kristin Tårnes
"During my stay in Berlin I have been walking around taking snapshots of things I see in the street. Things I find interesting, funny and strange. A selection of these snapshots will be put together into a small photo book that will be presented in the group show."
Teng Chao-Ming
Teng Chao-Ming
"One of the project I am finishing up is about a song, written in 1934 by the Taiwanese composer Teng Yu-Shien. This song witnesses the societal changes of Taiwan, being transformed by varies parties for different agendas, and still being used as a cultural symbol for Taiwanese, a self-victimization process to gain strength and gather empathy. This is a new piece commissioned by a Taiwanese curator Amy Cheng, and will be shown in Feb, 2014 in touring exhibition titled "Alter-Native: Taiwanese Alternative Sound". The other video I am editing now is about the biggest Taiwanese funeral service company, and also a major real-estate/construction company, to reflect on several ideas on time and progress."
Vemund Thoe
Vemund Thoe
"I am interested in displaced peoples, people who have been forced out of their original habitat into a new one. I have dealt with this subject matter both in my paintings and video work.
In particular I have focused on housing projects, such as the demolished Pruitt-Igoe complex, in St. Louis, Missouri.
I'm also interested in the psychology of architecture, the dicrepancy between utopia and reality. Paintings of the Pruitt-Igoe project will be exhibited in the artist studio at ZK/U."
Nancy Woods
Nancy Woods
Nancy Woods will present two new video works that combine processes of painting, construction, and personal development. In the past, Woods worked with life coaches in Berlin to help provide ideas for improvement. Here, Woods reflects on that experience as it relates to art making as well as the private construction and performance of multiple selves.