OPENHAUS 22/10/2015
Exhibition, Open Studios and Performance
Participants from the ZK/U residency: Charlotte Åberg, Camila Cañeque, Chloe Lee & Hyemi Cho, Mattias Eliasson, Olya Zarapina, Stine Gonsholt, Sze Ying Goh & Lia Tostes, Youngtaeg Ko, Verónica Troncoso, Youngjoo Yoo
Alex and Su will share their love for a homemade vegetarian Knödel with you!
Spinatknödel with spinach, Rohnenknödel with beetroot, Kasknödel with Bergkäse cheese, Kürbis-Ingwer-Knedl with pumpkin and ginger - all served with delicious salads, herbs and toppings.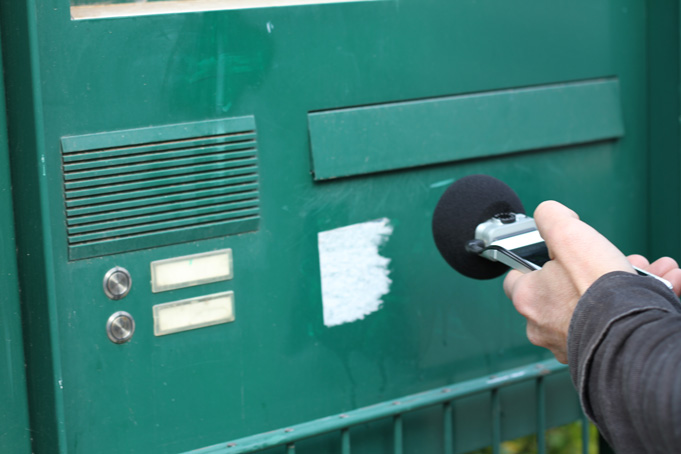 Charlotte Åberg
Sound dérive
The second dérive for the project "Imagine the city" is a collaboration with the sound artist Tillmann Richter. It deals with the content of psycho-geography, change and disconnected experiences in the city.
Camila Cañeque
An Invitation to Violence - Solarium
Camila Cañeque is turning ZK/U's main hall into a solarium. The result is an ephemeral setting made to exercise relaxing series and sunning.
Mattias Eliasson
While a fragile system slowly reaches from one point in this room to another, weird things start to appear. Maybe we can try to talk about it.
Chloe Lee & Hyemi Cho
'In der Nacht'
when the sun goes down, shows our world from a new perspective.In his photo series titled "In the Night" explores the duo from the South Korean photographer Hyemi Cho and the artist Chloe Lee nature of the German capital in the dark and makes advantage of the fact the light of the moon. The project of the creative team began in 2014 and will soon be the natural side of other cities take a closer look.
Youngtaeg Ko
" A Walk " - HDvideo. 10min. color. sound. 2015
The wall of Berlin isn't a symbol of division anymore but a traveler's hot spot where citizens spend their leisure time and where travelers take photos.
Historical place or facts corresponding to personal experience may create new narratives.
Stine Gonsholt
My project examines questions related to urban and rural transformation. Changes within local communities as a consequence of increased global mobility is a main point of interest.
Pictures: 2D animation, HD ,1 min. loop/ stereo
Lia Tostes & Sze Ying Goh
50% Urban Residency [ 50%URRE ]
Lia and Sze are transposing an old project site (Urban Residency) into their current studio at ZK/U as a way of enacting a former "space of action" in their current "space of research". 50%URRE refers to the site plan of the Urban Residency courtyard scaled to 1:2 (50%), at the same time alludes to a dialogue between their past practice and their current interrogation.
Verónica Troncoso
Collective Cartographies in Transit: Why Divide the Lands?
Letters written, as visual elements and symbols representing ideas. These can be exchanged and translated to comprehensible or incomprehensible sounds.
Based on this idea, my project will articulate itself through drift routes in Berlin by the exchange of the sound of voices. This practice is based on an idea of sharing the hearing and not obeying the order of lexical comprehension.
I will produce a sound cartography based on 4 walking routes starting from ZK/U's building (Siemensstrasse 27) towards the different addresses Urs Müller had: Lorenzstrasse 65, Koblenzer Strasse 8, Breitenbachplatz 2 and Cosimaplatz 8. During these walkings I will record some voices reading different documents from the archive. These voices will be from people that I meet along the way.
With my project I want to explore the sonic dimension of written letters - which can be comprehensible or not for the reader - and to reflect about the exchange of knowledge made through the sound of voices in the city. Essentially, these sounds transmit the political past by looking towards the present and generating a new perspective about revolution, exile and resistance.
Youngjoo Yoo
3 minutes intimate conversation
"Because of my strong environmental ethos, I avoid 'making' art. Instead, I do art. Let's "do" art precisely by talking in different languages. To make this conversation successful, we will have to pay attention each other more, for instance, we may understand each other's body languages, voice and tones or eye expressions instead of the contents. You won't be able to have an intellectual and dialectic conversation here, but you will get more attention and more playful."
As the artist will speak in Korean and understand English, any other language spoken persons are welcomed. This conversation will be filmed.
Olya Zarapina
12390. Auzits Promenades
July 2015
Photo-filmic documentation of a short time in a small community in rural France.