OPENHAUS 19/12/2013
Open Studios, screenings and installations
With Marin Abell, David Clark, Yujin Jung, Shriya Malhotra, Fabiano Marques, Camila Mello, Mauro Espíndola, Ali Khodr.
7.30pm: BLANK Première Screening - Studio 8
8.15pm: Performance by Fabiano Marques - Terrace
9.00pm: BLANK Première Screening - Studio 8
Artists and researchers in residence open the door of their studios and present the projects they have developed during their time at ZK/U.
The public is invited to come and take a look into the artists' studios, get familiar with the different projects that are presented, as well as meet the residents and discuss their works with them.
Marin Abell
Marin Abell
Marin Abell is here to explore how allusive reinventions of Berlin's architectural and cultural landscapes might be channeled into his own backyard as currents for self-reflective discussion and change. In encountering rumors of Berlin's Görlitzer Park—a World War II bombed train station turned public park with its speculative crater-like landscape left unfilled—he has found a paradox, a destructive space turned joyful. Such reconstruction for new social purposes can be a stimulus for valuable reflection and cultural memory. In his own Cummings Research Park neighborhood in Huntsville, Alabama, Abell will entangle a transportable mini Görlitzer Park fabricated of local area industrial scrapings, suggesting that authentic transformation involves more than rebuilding on the tabula rasa of a topography; but this rebuilding requires, and triggers, the conscientious internalization of the many differences in one's culture only discoverable through enthusiastic dialogue.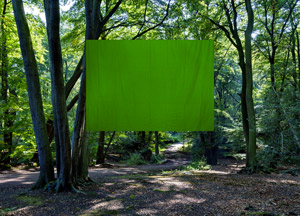 Jamie Allen
Jamie Allen - Greenscreen (excerpt)
30 second video loop for two colour CRT monitors
2013
A muslin greenscreen chroma-key backdrop is placed in the woods. A 30-second video loop of this event is played back on two CRT colour reference video monitors.
David Clark
David Clark
David Clark is showing studio work completed during his three month residency. The work consists of drawings that describe complex abstract situations that are balanced between architectural, diagrammatic, and the cartographic. Other drawings and notes show the development of a new transmedia project planned for the Canadian city of Halifax for the upcoming anniversary of the Halifax Explosion. This is a work called 'The Copenhagen Interpretation.'
Yujin Jung
Yujin Jung
The work I am currently developping at ZK/U is an expansion of my last installation. In the architectural live installation Fifteen minutes deformation (2013), I explored the space between my physical self and the existence of others. This particular relationship is extended and duplicated.
During my stay at ZK/U, I am making a new body of work with experimental practice on the question of the 'self' in the technological age, based on those questions:
- How are people and things connected to each other in the network / new technological sphere?
- Are the information and sensorial extensions that we get through internet, the virtual world, and the digital (haptic) culture informed through our senses and perception?
- In that network, our 'being' exists as an organic notion, rather than a physical one. Then, am I re-defined by the spaces occupied by it in the network?
- In the strict sense, how can 'I' and my physical being be measured? Am I so imponderable?
- Could we finally say that the 'I' signifies myself referring to the areas that my connection or my consciousness reach?
Camila Mello, Mauro Espíndola, Ali Khodr
Camila Mello, Mauro Espíndola, Ali Khodr - BLANK
Première | Sessions at 7.30pm - 9pm | Studio 8
"Blank is a clever filmic dispositive that deals with spectrality using the most spectral means of expression, cinema. It actually aims to defeat the myth of origins and its contemporary manifestations. It makes use of the specific resources of filmmaking, which is the manipulation of time, to talk about a sensitive issue: the disharmony between subjective experience of time and narratives of remembrance. Modern societies are built on metaphysics of the individual, and each person as an individual is supposed to get empowered using remembrance tools (such as archives...). But what happens when you don't recognize yourself in the tools of investigation of memory and of the past that are made available? Blank invites us to think about the complexity of memory and subjective experience of time, in an era satured with narratives and devices of remembrance". Michel Daccache
Base-Film is pleased to present BLANK, a film-process connected to the irrecoverable place of oblivion that had been performed through artistic residencies along the year with the collaboration of the artists and researchers Fernanda Albertoni, David Clark, Michel Daccache, Manuela Eichner, Fabiano Marques, Fabrizio Poltronieri and the special participation of Liuka Ona Körbes, Ana Carolina Leichter Matte and Gustavo Sanromán.
More images are available at https://www.facebook.com/BASEprojects
We have the support of the Brazilian Ministry of Culture.
BLANK film-process by Ali Khodr, Camila Mello and Mauro Espíndola, 2013.
Shryia Malhotra
Shryia Malhotra
The open studio will showcase different tactics used by the Partizaning collective for participatory research or artistic urban interventions. Shriya Malhotra will create a temporary bureau of secrets and act as a neighborhood therapist for people to discuss concerns and receive prescriptions of actions to help resolve or change the situation.
Fabiano Marques
Fabiano Marques
Human insulation - A panel discussion around the topic of a broken sauna
Performance at 8.15pm | Terrace
Proposal for a participatory performance by Fabiano Marques outside of the "Holz Box", the sauna project by former ZK/U fellows Jamila Drott and Jim Brunnestom, on the outdoor platform of ZK/U. The project consists in inviting people to gather around the sauna to create a human insulation panel that would temporary solve the problem of the defective sauna. The participants are invited to sit on chairs placed in a circle around the sauna and to have simultaneous cross-conversations with the people on the opposite side of the circle. As the sauna is a physical obstacle for discussion, people need to negotiate their message either by talking out loud or passing the word around.
Sauna as a cultural phenomena of countries with cold winters has always amazed those coming from the tropics, like me, letting us to wander what an equivalent Brazilian version would look like. The answer might be simply in turning the sauna inside out.
Besides this, I'll be showing in my studio a series of recent drawings about unfinished architectural constructions that have plenty of room for drafts.